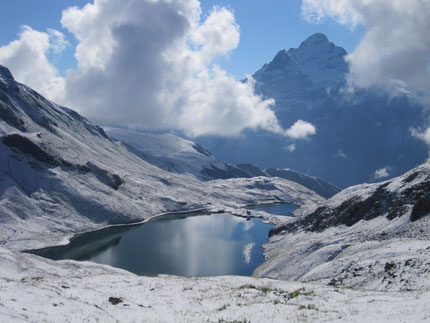 Doesn't it sound exciting and appealing? While you might think of jumping from cliffs and enjoying every moment of your life with passion and devotion, what I will share with you might slightly dampen your fantasies.
I want to take you on a journey to think about how you live your life and how you experience yourself and others, in particular, how much you live, think, behave and experience in extremes and what this really means to yourself and others around you.
Most people will be surprised that living in extremes causes and maintains a lot of their suffering. How could it be, when it feels so appealing and seductive?
Let me give you some examples: Take David, who is plagued by extreme guilt – guilt about upsetting and hurting others, guilt about being too selfish and angry, yet another side of him is rather opinionated, critical and even controlling of others. He does not like this side as much and often is not even aware of it. But when he does recognise both sides, he realises how he is caught in a "blame game" – it's either his fault or the other person's fault that things are awful. He feels stuck between feeling terribly guilty about himself and feeling very angry and critical of others. The blame has to be located in one or others, there is no middle ground and therefore no free expression of his feelings or an honest interaction with others is ever possible.
Let me give you another example: Sonja is always the life and soul of every party. She never fails to make others have a good time and will always be generous with her money. She is confident and outgoing. However, she can also be very withdrawn, spending time by herself watching TV, finding it too exhausting to be around people. And she drinks. Her need for alcohol is very strong and nothing quite fills her needs as well as alcohol does. She never has any money saved in the bank and often needs to rely on her family to borrow her money and needed to move back home to her family when yet another relationship broke down. She is caught between wanting to experience herself and be seen as generous and giving, always putting herself second, yet ending up being so depleted and needy that she then needs to drink and fall back on others as she has nothing left for herself.
What is important is that most people who live in extremes will tend to hide the part, which they believe is less acceptable. Hence, they are often seen as very successful and confident people. They have high morals and are "good". Only those they let in closer (if anyone) and who see the full picture can see that it is only partly true. Furthermore, others might be drawn to the "good parts" and further encourage the individual to hang on to living in extremes. If others like me for it, it must surely be good?
However, what is underneath all this is, that living in extremes causes pain – not only to ourselves, but also to those around us. It can make it impossible to have satisfying relationships with those who are caught in this pattern and it will leave the person in a constant internal struggle from one extreme to the other. It can push us to a place where we feel we are close to going mad.
What are your extremes and what are the sides you don't like about yourself and perhaps make up by exaggerating the other? Do you ever feel strongly pulled in both directions, but don't want to admit it and wish you could just get rid of your "bad" sides?
Jung spoke about "the shadow", referring to those parts of us which we do not like, but need to be accepted and integrated in order to find balance. Most importantly, Klein's concept of "paranoid-schizoid and depressive position" is important if we want to understand what is going on and what makes this process so important and sometimes difficult to change. In very simple terms, Klein describes how as babies, we are unable to integrate opposing concepts and mainly think in very rigid or black and white terms. Something is either good or bad, acceptable or unacceptable and so on. What we learn growing up is that this concept is unrealistic and delusional, i.e. it does not fit the way the world works as something is not inherently good or bad, but most things are both and the judgement depends on a load of changeable factors, such as the situation and the person who is judging the situation or thing. Once we have learnt to integrate and hold in mind opposing positions and think in more balanced ways (see the "greys"), we have mastered the "depressive position".
While the term might be slightly misleading is that we do not end up depressed in the usual meaning of the word. However, while I have to admit that I am not entirely sure why Klein chose this particular description, she might have linked it to the slight disappointment and grieving of giving up the paranoid-schizoid position, i.e. living in extremes and the positive feelings we relate and experience in regards to this. Sonja, who likes to see herself as endlessly generous and loved and liked by everyone, might have to give up this extremely appealing and potent view of herself and accept that she also needs to be looked after and nurtured sometimes. And David, who is trapped between guilt and being controlling and angry, might have to accept that he is both thoughtful and careful about others, but can also be demanding and selfish as well as angry at times and that this is ok and part of being human. What he will need to give up is the view of himself that he is pure and good and that this is a state that one can attain if one only tries hard enough.
Ones we accept both parts of ourselves, they cease to be so extreme and have less power over us.
While we learn as babies to see things in balance and in an integrated way, I feel we have to work all our life on seeing things from different angles and most of all at integrating and accepting all parts of ourselves. While it might be exciting and feel very safe to live and perceive ourselves and others in extremes, the costs are very high. Only if we learn to move to a more balanced and integrative position can we find peace and balance and live life to the fullest.